Industrial Racking Failures & Why They Happen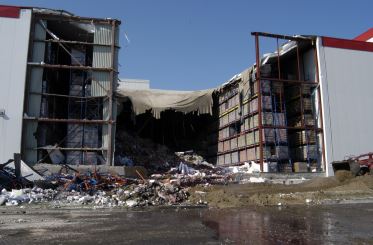 Racks are everywhere in our industrial establishments and some have failed with catastrophic results.
Why is this happening?
In my experience inspecting racking systems and investigating rack collapse, I find the reasons to be one of the following:
Overloading.

As a result of a sustained impact with mechanical equipment or stored items.

A lack of regular inspection, maintenance and repair of damaged components.

Poor design and fabrication.
Pre-engineered racks are structures designed for ideal conditions and not the real environment encountered in a plant. Moving equipment in a plant are beasts of burden that are able to, with a tender nudge, cause catastrophic damage to a loaded rack structure. While pre-engineered racking manufacturer's set criteria for the assembly, loading and repair of racks in printed specification sheets. In reality: • Racking components are sold as a commodity item, frames, stringers& decking. • Second hand racks are occasionally purchased and installed in plants.
Racks are moved around the plant without a review of the manufacturer's requirements regarding anchoring of bases or the provision of protection shields for the bases etc. and without the involvement of structural engineers.

Damage is not reported and attended to immediately. • Engineering documentation, load rating information and manufacturers instruction for the assembly, maintenance and use disappear.

Signage indicating the load rating of shelves is not posted.

An engineered repair procedure is not available.

Racks are custom built in a plant or engineered racks are altered without engineering input.

Training of equipment operators is deficient.
Owners, employers and health & safety committees need to review the existing racks in the plants and ensure the following:
Engineering documentation is available indicating that the rack was designed and installed in accordance with current applicable standards and manufacturer's specifications.

The racks are continuously inspected for signs of damage or distress.

Damage is immediately reported and attended to.

An engineered repair procedure is available and implemented.

Equipment operator training includes working around racking systems.

Custom racks are designed by professional engineers.

Modification of a rack is made by a professional engineer.

Load rating signage is posted in conspicuous locations on the racks and workers trained not to overload the racks.
— Ralph Balbaa M.Eng., P.Eng., is a health and safety expert with more than 40 years of engineering experience and a former Ministry of Labour consultant. He is the President of HITE Engineering, a Mississauga-based consulting firm specializing in industrial and construction safety.